Accommodations
Calgary is full of amazing places to stay, and for your convenience blocks of rooms have been reserved at:
The Hilton Garden Inn Calgary Downtown
711 4 St. SE Suite A, Calgary, AB T2G 1N3
A limited number of rooms have been reserved. The special rate of $160 CAD is available until October 07, 2023. For more information, please visit the reservation page.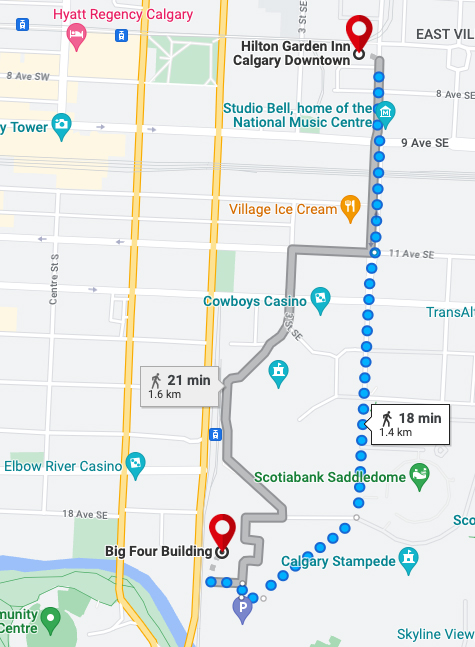 Transportation
Airport: Calgary International Airport (YYC)
The airport is located 18.5 km / 11.5 mi from Hilton Garden Inn Calgary Downtown.
C-Train
The Hilton Garden Inn is a 2-minute walk from trams at WB City Hall C-Train Station. From this station, you can get to downtown and the Big Four Building for free using the TD Free Fare Zone.
International Invitation Letters

Upon request, The GoGeomatics Expo issues International Invitation Letters to international attendees wishing to attend the Expo. The GoGeomatics Expo cannot accept any responsibility for Visa applications nor will it influence the processing of Visas. Please note that it may take Canadian Embassies/Consulates three (3) months to process a Visa application. Applicants must check with their respective authorities to determine exact processing requirements. For more information about Canadian government requirements for visitors and contact information for Visa offices, visit www.cic.gc.ca.
Where an attendee is unable to attend the expo because of their failure to obtain a Visa, the cancellation policy for registration fees will apply.