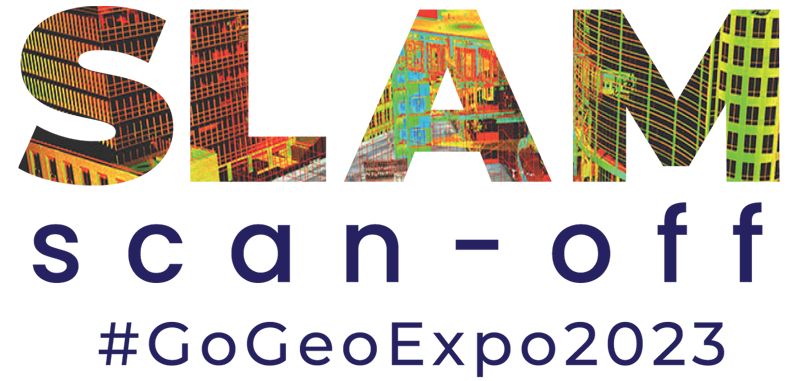 What is the SLAM Scan-Off?
The 2023 GoGeomatics SLAM Scan-Off is designed to be a "right tool for the right job" awareness event. It is an unbias comparison of different Simultaneous Localization and Mapping (SLAM) systems available to the geospatial community within an interior urban environment. The objective will be to navigate approximately 100 linear metres of an as-of-yet undisclosed location in downtown Calgary in the days leading up to the GoGeomatics Expo, compare the results against a control model, compare spatial determinations and make all prescribed data available to the public.
The data generated by each participant will be compared against another scan of the area using a conventionally accepted laser scanner and survey method (Terrestrial LiDAR or TLiDAR,) then each is evaluated for their spatial fidelity. Each participant will be asked to:
Scan the pre-selected area as completely as possible.
Process the data into a prescribed absolute reference frame.
Determine the spatial confidence of the point cloud.
Report the spatial coordinates of control locations extracted from the point cloud in a csv.
Provide a 'best practices' guide for data collection in this environment using their instrument of choice.
Provide a workflow for the model constructed, including software involved and/or associated.
Submit the point cloud and csv to the committee and allow them to be made publicly available.
The data submitted will be evaluated against a set of criteria (described in participant package) to demonstrate the performance capabilities of each platform. This is done in an unbiased manner with no 'winners' or prizes.
The data from the Scan-off will then be made available through GoGeomatics.ca for independent review. GoGeomatics and the Scan-Off committee will highly encourage companies and individuals to utilize this data for their own independent review and analytics. Use of this data in combination with tools like point cloud extraction software trial licenses will aid start-up and established geospatial companies/departments choose the right tools for the job, both in the real and virtual.
Additionally, it is our hope that companies looking to source reality capture data of their environment will use this information to put out 'realistic' RFPs and avoid setting requirements that unnecessarily increase the complexity and spatial requirements of the job at hand. In the end, it's just as much about informed clients as it is informed users.
What is SLAM?
Simultaneous Localization And Mapping (SLAM) has its roots in the robotics industry as a solution for the problem of "How do I get a robot to understand its location within an environment while it's learning what that environment is?" While the methods involved can vary as greatly as human imagination, machine learning and computer vision can allow, it typically involves the analysis of data from inertial measurement units (IMUs) along with high-density laser measurement data (known as point clouds) and images in order to better refine the path that the instrument took during its operation, thus vastly improving the likelihood that the calculated path it took is the true path. This determination forms the spine of the resulting model with the onboard instruments and other analytical refinements forming the resulting model.
With the introduction of measurement control networks, refinement scans (scanning areas in 'loops' or closed, crossing geometric patterns) along with high precision lasers and high definition camera manufacturers, these models are only becoming faster and more accurate with each new generation of platform.
Depending on the type of work being carried out, these instruments are opening new avenues and possibilities for collaboration, awareness, preservation, analysis, digital planning and simulation, asset/site management, legal/situational documentation, and automation.
The growing industry of SLAM platforms is presenting itself as a direct solution to the issue of collecting data quickly, comprehensively, with sufficient accuracy and with minimal disruption to production or environment. Likewise, these and traditional 3D scanning collection methods are being made even more impactful through the application of computer learning and automated extraction methods, turning these instruments into invaluable analytical tools and the bedrock for a future that will demand a plethora of data, fast. However, there are as many different spatial tools as there are there are needs for spatial information! Which ones are right for the work you wish to pursue? This event aims to help answer that question.
Who can participate in the scan-off?
As this scan-off is being hosted as a means to aid commercial and industrial data collection awareness and selection, only commercially available units are able to participate.
Due to this year's event being in a public, populated area only commercially available hand-held or human-mounted SLAM units are encouraged to participate. Aerial and vehicle platforms will not be allowed to participate as these drones pose a potential danger and disruption to the public. Robot platforms may be considered provided they are escorted, equipped with high-visibility markings, are terrestrially bound and do not pose a potential danger or disruption to public activities and thoroughfares.
Dates of Event: November 3 to 5, 2023
Allotted time for collection: 1 hour
Approx (linear) distance to scan: 100 metres
Deadline to Apply: September 30, 2023
Time slots by availability on first come, first serve basis.
Deadline to Submit Data Deliverables: November 6 @ 13:00 MST
Participant Data Deliverables:
Platform Data Sheet (pdf)
Post-Processing Software data sheet (pdf, txt or html)
Platform Operation Manual (pdf)
Software Operation Manual (pdf, link sufficient)
Price List – "Turn-key; ready to collect, process and present tomorrow" (pdf, Canadian Dollars)
Post-Processing Report with positional confidence (pdf)
Control point locations – Point, Northing, Easting, Elevation, description (csv)
Georeferenced point cloud (las, laz or e57)
Times required to:
1 ) Scan the scene
2) Post-process the scene into the extractable model

Description of deliverables are in the participant package.
We are working in partnership with institutions such as SAIT's and the University of Calgary's Geomatics department. If you are interested in being a sponsor of our SLAM Scan-Off program please get in touch.
If you have any further questions or require additional information, please contact Alex Hill-Stosky at
alex.hill-stosky@eagle-eac.com